Things to do in Dorset

Visit some of the very best
attractions in Dorset, Devon,
Wiltshire, Somerset & Hampshire
Choose a place on the map and click on the links.
You will find great Historic Houses, Castles, Cities, Abbeys &
Cathedrals, Gardens, Country & Animal Parks, Museums, Steams Fairs
& Historic Transport, Antique & Crafts Centres,
Ships & Ferries and more for your great days out in UK.

1 Fleet Air Arm Museum
2 Adventure Wonderland
3 Weymouth Sea Life Park
4 Wookey Hole
5 Teddy Bear Museum
6 Tutankhamun Exhibition
7 Blue Pool & Wareham Bears
8 Gorcombe Extreme Sports
9 The Priest's House Museum
10 Abbotsbury Swannery
11 Marwell Wildlife
12 Montacute TV Museum
13 Swanage Railway
14 Sherborne Castle
15 Splashdown Poole
16 Great Dorset Steam Fair
17 The Dinosaur Museum
18 National Motor Museum
19 Farmer Palmer's Farm Park

20 Snowtrax
21 Wimborne Model Town
22 The West Somerset Railway
23 Lemur Landings
24 Haynes Motor Museum
25 Putlake Adventure Farm
26 Tut's Treasure Hunt
27 Tolpuddle Martyrs Museum
28 Great Dinosaur Egg Hunt
29 Pirate Adventure Mini Golf
30 Terracotta Warriors Museum
31 Perry's Cider Mill & Museum
32 Royal Signals Museum
33 Heavy Horse Park
34 Mummies Of The Pharaohs
35 Teddy Bears At Christmas
36 Pecorama Railway
37 Kingston Maurward Gardens





DORSET
Dorset holiday attractions

Dorset is famous for its stunning coastline - the Jurassic Coast, and many holiday attractions.
Area: 2,653 sq.km
Population: 701,900


The beautiful county of Dorset boasts rolling hills, breathtaking countryside, quaint villages, sandy beaches and the Jurassic coastline - a tremendous natural landmark.
The tourism industry in Dorset is booming. Dorset holiday makers enjoy different accommodations such as hotels, campsites, holiday parks, inns, holiday homes, self-catering apartments and B&Bs. Keen on activities or just looking for a peaceful break - you will find something to suit your needs among great attractions, museums, pubs, and local shops.

The county has lovely, sunny summers and mild winters, that's why Dorset attracts holiday makers all through the year. Dorset is far enough South to be one of the Britain's warmest areas. Dorset's climate is good - the mean winter temperature averages from 5 to 9 °C. Summer temperatures are high, averaging more than 21 °C. Some parts of Dorset receive more sunshine than anywhere in England.
The countryside of Dorset is unspoilt by huge industrial establishments. Largely a rural county, Dorset allows more space for tourists and holiday makers.
There are many things to do in Dorset. For the more chic lifestyle of large conurbations Dorset has Poole and Bournemouth and some major cultural institutions. Dorset holiday makers will enjoy some spectacular shows at Lighthouse arts centre in Poole, Bournemouth Pavillion Theatre and the BIC. Wimborne Tivoli Theatre and Weymouth Pavillion theatre stage exciting shows, too. High streets of Dorset towns turn into an ongoing festivity during summer months showing off the unique traditional lifestyle and local peoples' hospitality. During the summer there are plenty of festivals, fairs and events for everyone to enjoy.

Bournemouth and Weymouth are among the oldest sea resorts of Western Europe. Sea bathing was made popular by king George III, frequent visitor to Weymouth to bathe from a machine.
Not only Bournemouth and Weymouth can boast of warm sandy beaches. There are plenty of Blue Flag beaches for holiday makers to choose from in Dorset.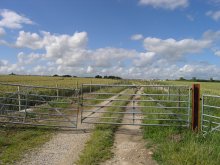 Dorset is the ideal place to relax and discover the tourist attractions, from castles and museums, to historic buildings, country parks, farmers' shops and old markets still selling traditional local crafts and produce.

Dorset is a great county to visit. It is popular for its excellent walking through a marvellous countryside. There are strong literary connections with Thomas Hardy, T.E. Lawrence and John Fowles.
| | |
| --- | --- |
| Fearured attractions for your great days out Things to do in Dorset: | |
New Great Days Out UK attractions in 2013: West Somerset Railway / The Blue Pool & Wareham Bears / Gorcombe Extreme Sports
| | |
| --- | --- |
| Send your friend a link to this holiday page by completing this Great Days Out UK form. You can also find Dorset vouchers and discount coupons here. | |
How about a wonderful holiday or a couple of great days out in some of the Southern England counties? Get to know them better:

Dorset is a county in South West England. Dorset is famous for its beautiful coastline - the Jurassic Coast, and many holiday resorts.
Area: 2,653 sq.km
Population: 701,900

Somerset is a county in the South West of England. Somerset is a rural county of rolling hills and the Somerset Levels.
Area 4,171 sq. km
Population 884,400

Hampshire is a county on the south coast of England. Hampshire is a popular holiday area, with strong maritime connections via Portsmouth & Southampton. - Portsmouth.
Area 3,769 sq. km
Population 1,671,000

Wiltshire is a county in South West England. It is famous for its high plains and wide valleys. Wiltshire is the home of Stonehenge and other important landmarks.
Area:3,485 sq. km
Population: 630,700

Devon is a county in the South West of England. It is unique among English counties, in having two separated coastlines, on the English Channel and Bristol Channel.
Area 6,707 sq. km
Population 1,109,900

Free holiday brochure Great Days Out to advertise your business.
Are you proud of your county but do not see it listed? Feature it here along with your tourist attraction. Click on the brochure image to apply for inclusion in the 2012 issue of the Great Days Out UK brochure and website.

---

Great Days Out | Dorset Holiday | Somerset Holiday | Hampshire Holiday | Wiltshire Holiday | Devon Holiday
Last Minute Hotel Deals | Interactive Map | Site Map | RSS